The building of Writing Across the Humanities has been a group effort. The project was spearheaded by Serena Le and Evan Klavon, and Alex Brostoff later joined the development team. Professor Katherine Snyder has served throughout as faculty advisor, cheerleader, and grunt.
Irene Yoon and Aileen Liu pitched in early on, and Max Stevenson batted clean-up in the editing phase. In a heroic push toward the finish line in Spring 2019, a team of graduate students from the departments of English, Comparative Literature, Rhetoric developed most of the site's content. For their help and good cheer, we thank Andrew Barbour, Wendi Bootes, Cheng-Chai Chiang, Amy Clark, Imogen Forbes-McPhail, Jordan Greenwald, Marion Homans-Turnbull, Ryan Ikeda, Marianne Kaletzky, Madeline Lesser, Cory Merrill, Michelle Ripplinger, Max Stevenson, Alba Tomasula y Garcia, Simona Schneider, Sarah Whitt, and Diana Wise.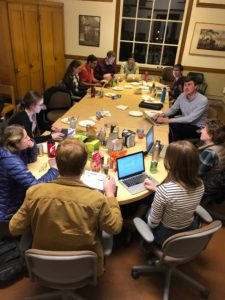 Many thanks as well to Tim Culvahouse and Katie Schramm for web design and Darrend Brown for web development.